Moving Home (Infographic)
This simple infographic guide (GUIDEographic) will take you through the basic steps to moving home. If you have already sold your current house and bought your new property; then this is the infographic for you!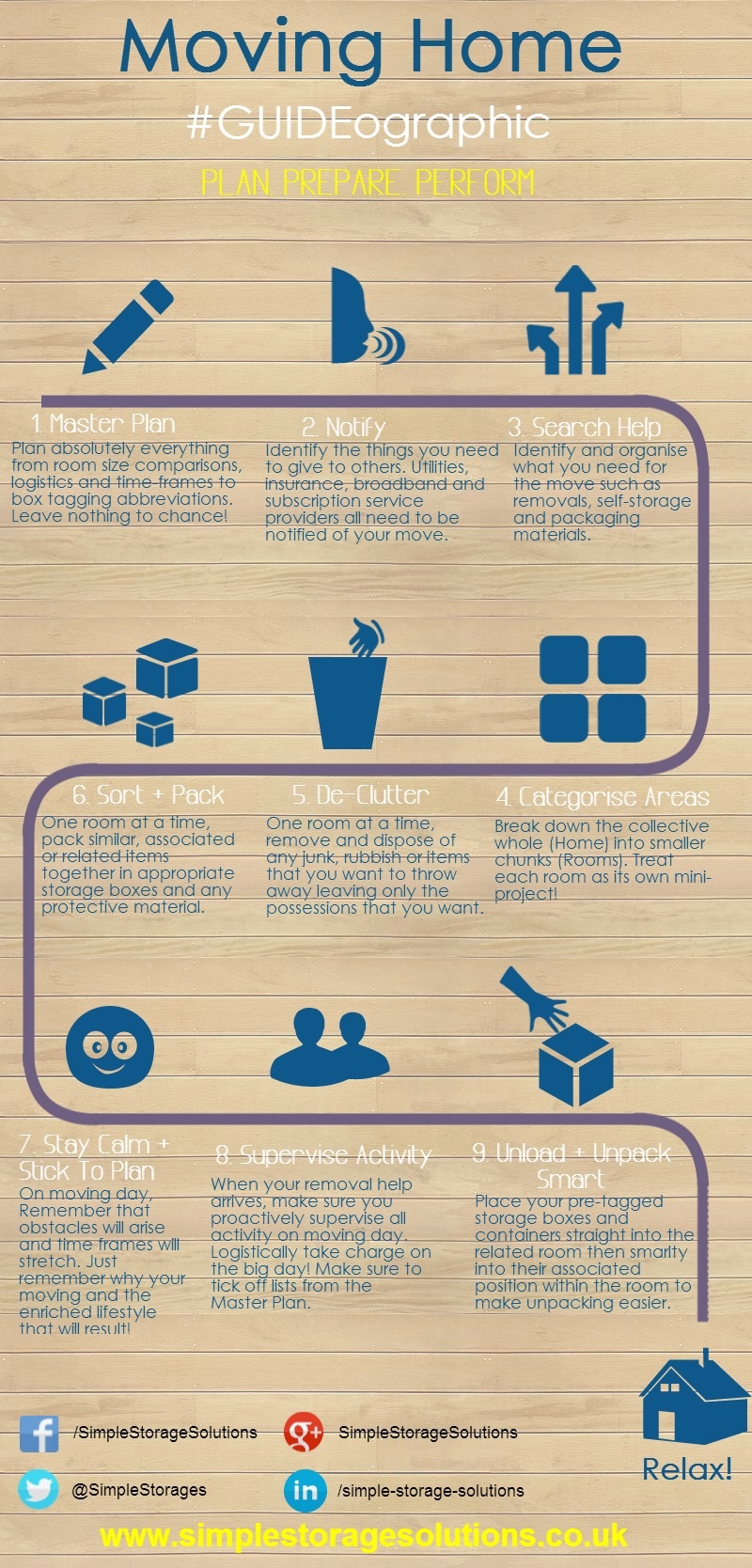 Phase One: Plan
Master Plan

– Plan absolutely everything from room size comparisons, logistics and time-frames to box tagging abbreviations. Leave nothing to chance!

Notify

– Identify the things you need to give to others. Utilities, insurance, broadband and subscription service providers all need to be notified of your move.

Search Help

– Identify and organise what you need for the move such as removals, self-storage and packaging materials.
Phase Two: Prepare
Categorise Areas

– Break down the collective whole (Home) into smaller chunks (Rooms). Treat each room as its own mini-project!

De-clutter

– One room at a time, remove and dispose of any junk, rubbish or items that you want to throw away leaving only the possessions that you want.

Sort & Pack

– One room at a time, pack similar, associated or related items together in appropriate storage boxes and any protective material.
Phase Three: Perform
Stay Calm & Stick To Plan

– On moving day, Remember that obstacles will arise and time frames will stretch. Just remember why your moving and the enriched lifestyle that will result!

Supervise Activity

– When your removal help arrives, make sure you proactively supervise all activity on moving day. Logistically take charge on the big day! Make sure to tick off lists from the Master Plan.

Unload & Unpack Smart

– Place your pre-tagged storage boxes and containers straight into the related room then smartly into their associated position within the room to make unpacking easier.
THEN RELAX!